Sure-Seal® RF Connector Series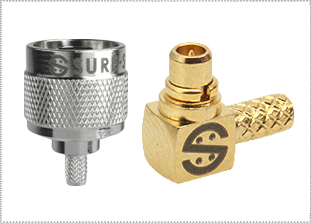 RF CONNECTORS AND CABLE ASSEMBLIES
Sure-Seal's RF connector series offers an excellent waterproof connector solution for harsh environment communication systems. Connectors and cable assemblies are available in a variety of permutations including BNC, TNC, SMA, Micro BNC, FME and more.
This RF connector series from PEI-Genesis prevent environmental damage with an IP68 protection rating against water and dust.
The RF connector series is suitable for flexible, semi-flexible and semi-rigid cables and is fully compatible with Mil-STD-348B. Providing the customer with a reliable, rugged interconnect for industrial control networks and other mission critical applications. PEI-Genesis partners with design engineers to also build custom solutions with the Sure-Seal RF connector series.
Featured Products
BNC

Available in waterproof designs
Accommodates a variety of coaxial cables

One of the most widely used interconnection connectors

MCX

30% space reduction over similar SMB/SMC types
12G-SDI design is also available

Ideal for applications where size and weight need to be taken into consideration

MMCX

30% smaller than the MCX series
Available in cable termination and PCB

One of the most popular series for Wi-Fi/IoT/M2M

N Type

Available in a waterproof design
Accommodates a variety of coaxial cable

Ideal for network infrastructure and microwave components

SMA

Available in a waterproof design
26.5 GHz design is also available

Accommodates many interconnect requirements

TNC

Available in a waterproof design
The threaded design provides a more robust structure than the BNC connector

Can be used for the same applications as the BNC connector

Ultra Tiny BNC

Available in a waterproof design
51% smaller than the standard BNC connector

The superior solution for all broadcasting applications

12G-SDI BNC (12GHz)

Available in a waterproof design
Identical to the standard 75 ohm BNC connector

Designed for 12G-SDI broadcasting applications

6G-SDI 1.0/2.3 (6GHz)

Identical to the standard 75 ohm 1.0/2.3 connector
Miniature size provides a more flexible mechanical solution

Designed for 6G-SDI broadcasting applications when space-saving matters