Sure-Seal® IP67 USB 2.0 Connectors - Composite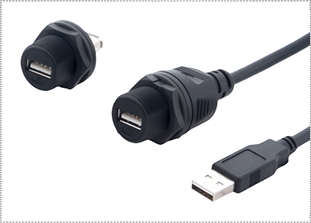 RUGGED, RELIABLE, WATERPROOF USB 2.0 CONNECTOR SYSTEMS
Sure-Seal® USB 2.0 Composite Connectors and Cable Assemblies (IPUSB) are designed with a robust construction and provide a reliable, cost effective connection. The USB 2.0 Connector Series are waterproof and contamination-resistant, rated to IP67, making them an ideal choice for harsh environment I/O applications, including factory automation, process controls, diagnostics and test instruments, mass transit, and outdoor telecommunications.
Customized Sure-Seal IP67 USB 2.0 connector solutions offer engineers design flexibility for power and data transmission in demanding industrial applications.
Sure-Seal is a PEI-Genesis brand designed for high reliability in extreme environments. PEI-Genesis now offers a comprehensive range of ruggedized, high reliability interconnect systems for Industrial I/O.