Amphenol AIB/GT Series Connectors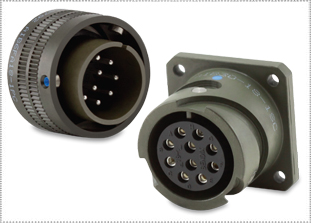 IMPROVED COUPLING OVER THREADED COMMERCIAL SAE-AS50151 (MIL-DTL-5015)
The Amphenol AIB/GT series replaces the threaded coupling used in commercial SAE-AS50151 (MIL-DTL-5015) connectors with a positive, quick-mating, three-point reverse bayonet lock for improved performance. These Amphenol AIB/GT Series connectors are an ideal cost-effective option for applications requiring reliability in harsh environments, and are the world-standard for rail, mass transit, and military ground vehicle applications. The Amphenol AIB/GT series has the same shell dimensions, contact layouts, contacts, and performance characteristics as the SAE-AS50151 (MIL-DTL-5015) threaded connectors; however, the two series do not intermate. These connectors are sealed to withstand moisture, condensation, vibration and flash-over. Over 180 contact layouts are available, in variations that allow for just power, just signal, or a mix of both contact types. There is also an additional option of high-power RADSOK contacts. For our full product descriptions of the Amphenol AIB/GT series, please see the specifications below.
Learn more about how versatile Amphenol AIB connectors can be by checking out our blog post called: "Withstand Rugged Conditions with Dependable Amphenol Connectors".

AMPHENOL AIB/GT SERIES FEATURES
Commercial and Military
AIB/GT series connectors are made in accordance with German military specification VG95234 and MIL-DTL-5015. Originally designed for NATO combat vehicles, aircraft, and airborne equipment, these rugged connectors are now in a broad range of demanding commercial applications from trucks to industrial robots.


Simple and Fast Mating and Un-Mating
AIB/GT series connectors use a unique "reverse bayonet" coupling system that allows for mating and un-mating with a simple 120˚ rotation without compromising shock, vibration, or moisture resistance. The large, open ramps are easily cleaned of mud or other contaminants. The ramp coupling system eliminates the possibility of cross-threading and thread damage possible with standard MIL-DTL-5015 threaded connectors. This design is easier to mate in cold weather, tight spaces, or on equipment which must be disassembled frequently.


Shock and Vibration Resistant
AIB/GT series connectors are supplied with military-standard resistant sealing and a three-point bayonet coupling nut. The three-point bayonet coupling incorporates a wave spring and washer specified by the rail industry. AIB/GT series connectors pass the most stringent tests of shock and vibration performance while maintaining proper continuity and water tightness. Rugged aluminum alloy shell and hardware are light in weight yet highly resistant to damage.


Audible, Visual and Tactile Confirmation of Mating
AIB/GT series connectors provide three independent checks that the connector halves are mated. When the coupling nut is fully rotated, the three studs snap into the end of the ramps with a loud "click" (audible). The user can feel the bolts click into the grooves (tactile). Blue dots on the receptacle and coupling nut are aligned when the connector is properly mated (visual).


Environmental
The sealing is not compromised by any of the operating conditions defined in MIL-DTL-5015 and is completely watertight when mated.


Broad Temperature Range
These connectors will operate in temperatures from -67˚ to +257˚F (-55˚ to +125˚C). High-temperature and zero-halogen insulators are also available. Contact us for ordering information.


Wide Range of Wire Gauges and Current-Carrying Capability
Up to 150/245 amps with accommodations for wire gauges from size 26 to size 0 AWG.


Wide Variety of Contacts
High-reliability screw machine contacts with silver or gold plating are available in sizes from 20 to 0 to accommodate wire gauges from 26 to 0 AWG. Solder, crimp, PC, and thermocouple contacts are available.
AIB/GT connectors use rail industry-standard crimp contacts that are completely interchangeable with other rail connectors such as Litton/Veam CIR series.


Intermateable and Intermountable With All VG95234 Connectors
The standard MIL-DTL-5015 layouts and dimensions ensure intermateability and intermountability with all connectors made in accordance with VG95234.

All AIB/GT connectors are intermountable with standard threaded MIL-DTL-5015 connectors, often making it possible to upgrade without changing panel cutouts or clearances.


AMPHENOL AIB/GT SERIES MATERIALS & FINISHES
Shell
Aluminum alloy (can be grounded)
Shell Plating
Cadmium, Anodized, Electroless Nickel, Zinc Alloy, or Grey Zinc Nickel
Contact Platings
Hard silver plating or gold plating
Seals
Silicone, Neoprene, or Viton®**
* Optional zero-halogen and high-temperature insulators are available.
Contact us
for information.
** Viton
®
is a registered trademark of DuPont DOW Elastomers
AMPHENOL AIB/GT SERIES ELECTRICAL DATA
Operating Voltage/Test Voltage according to
MIL-DTL-5015H
The indicated values for the operating voltage are limits concerning the electrical function. When the working voltage exceeds 50V, safety precautions must be in accordance with the following standards: VDE 0100, IEC 309-1 or applicable national standards.
*Test amps, multiconductor using Radsok contact
Altitude Voltage Derating* Chart
Standard Sea Level Conditions

Pressure Altitude†
50,000 Feet
Pressure Altitude†
70,000 Feet
Minimum Flashover Voltage
AC (RMS)
Minimum Flashover Voltage
AC (RMS)
Minimum Flashover Voltage
AC (RMS)
* No attempt has been made to recommend operating voltages. The designer must determine own operating voltage by the application of a safety factor to the above derating chart to compensate for circuit transients, surges, etc.
† Not corrected for changes in density due to variations in temperature.
Contact Resistance per
MIL-DTL-5015H p 3.15
Contact Resistance
Milliohm Max.
Potential Voltage Drop in Millivolts Max.
Insulation Resistance
@77˚F (25˚C) > 5,000 Megohms
AMPHENOL AIB/GT SERIES MECHANICAL
Operating Temperature
-67˚ to +257˚F (-55˚ to +125˚C) Neoprene/ Low Smoke Zero Halogen (Flame Retardant)
-58˚ to +392˚F (-50˚ to +200˚C) Viton
Sealing
33-foot submersible
Sealed when mated. ≈ IP 67 and NEMA 4P
Wire Sealing Range
The connector is designed for individual wire sealing. Sealing of an outer cable jacket on multiconductor cables must be accomplished with an appropriate endbell. Sealing is only guaranteed if wires used are according to MIL-W-5086 or within the listed ranges.
Mating Life
2,000 cycles minimum (commercial) 500 cycles minimum (military)
Salt Spray
Olive drab chromate over cadmium - 500 hours
Non-conductive black alloy - 48 to 200 hours
Conductive black alloy - 48 to 200 hours
Black anodized - 500+ hours
Electroless nickel - 48 hours
500+ hours grey zinc nickel
Heat
Neoprene 257˚F (+125˚C); Low-smoke, zero-halogen (LSZH) 347˚F (+175˚C); Viton 392˚F (+200˚C)
Chemical Resistance
Diesel Fuel, JP-4 , Hydraulic Fluid, Gasoline
48-hour intermittent spray for each chemical with no deterioration, followed by Contact Retention (CR), Insulation Resistance (IR), Dielectric Withstanding Voltage tests (DWV)
Corrosion Resistance
Olive Drab Cadmium-Plated 48 hours per MIL-DTL-5015 (3.17/4.6.13)
Fluid Immersion
Hydraulic Fluid 20 hours per MIL-DTL-5015 (3.19/4.6.15)
Lubrication Oil 20 hours per MIL-DTL-5015 (3.19/4.6.15)
Vibration
Per MIL-STD-810C, method 516.2, procedure VIII
1.0 g peak from 5 to 25 Hz
.030" double amplitude from 25 to 57 Hz
5g peak from 57 to 500 Hz
Basic Shock
Per MIL-STD-810C, method 516.2, procedure I pulse at half-sine wave of 30g for 11 seconds
Gun fire Shock
Per MIL-STD-810C, method 516.2, procedure IV pulse at half-sine wave of 100g for 1.5 seconds
Ballistic Shock
Per MIL-STD-810C, method 516.2, procedure IV pulse at half sine wave of 200g for .5 seconds
Contact Type
Solder, crimp, PC, first-mate last-break or thermocouple. Hard silver or gold plating.
Contact Insertion
From rear with simple hand-tool. Removable, 5 cycles minimum.
Contact Retention
Pin and socket contacts are designed to resist severe vibration and repeated connection and disconnection. Contact retention and separation is tested according to MIL-DTL-5015H (4.6.6.1)
Number of Circuits
1 to 85
Rear Accessories
Maximum Torque
Thermocouple Types:
J = Iron-Constantan
K = Alumel-Chromel
T = Copper-Constantan
E = Chromel-Constantan

Color code is identified by small dot on wire well end of contact.
Approvals/ Agency Listing
UL File# E115497
AMPHENOL AIB/GT SERIES CROSS-SECTION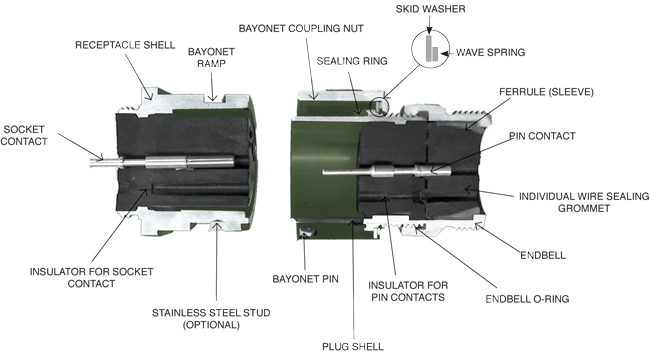 AMPHENOL AIB/GT SERIES COMPONENTS
AIB/GT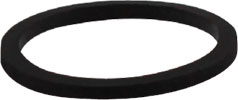 AIBC/ACA-B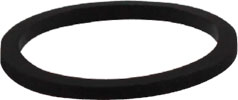 Wave Spring and
Skid Washer
(Optional)




Individual Wire
Sealing Grommet



Ferrule/Sleeve
Compression Ring



Endbell/
Backshell/
Cable Clamp