Amphenol Pcd Rack & Panel Type D-Sub Connectors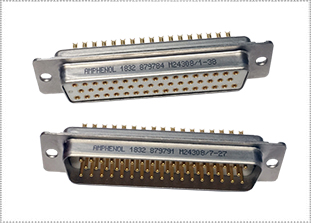 HIGH PERFORMANCE, VERSATILE D-SUBMINIATURE CONNECTORS
Amphenol Pcd D-Subminiature connectors are subminiature rack & panel type connectors with polarized shells. Qualified to MIL-DTL-24308, these rugged, reliable D-Subs are offered in PCB, solder, and crimp contact options. All Amphenol D-Subs are fitted with flame retardant thermoplastic inserts to conform with UL 94 standards and are designed for a wide variety of applications including military, commercial aerospace, avionics and in-flight entertainment.
Contacts are built using copper alloy with a gold mating surface to ensure a reliable connection. With their versatile design, these high performance connectors are used in a variety of applications where weight and dimensions are critical factors.
Available in multiple QPLs – M24308/1, /2, /3, /4, /5, /6, /7, /8, /23 & /24 – Amphenol Pcd D-Subs come in 5 standard shell sizes (9, 15, 25, 37, & 50), have pin counts ranging from 9 to 104, and are available in both magnetic and non-magnetic versions.