Amphenol Aerospace Quadrax Contacts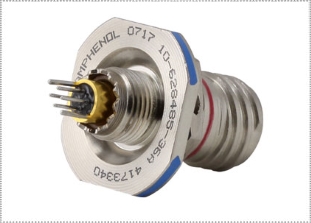 DURABLE HIGH SPEED CONTACTS
Amphenol Quadrax contacts are designed to meet ASTM E595 outgassing standards for aerospace applications such as ethernet, AFDX (Avionics Full Duplex Switched Ethernet) and Cockpit (display) & In-Flight Entertainment.
These high speed/frequency Amphenol Quadrax contacts feature a rugged outer wall for increased durability, gold plated finish, and crimp termination to protect four strategically spaced inner contacts that form two 100-150 Ohm matched impedance differential pairs.
When these Amphenol Quadrax contacts are matched with a MIL-DTL-38999 Series III or ARINC style connector, they form a high speed connector suitable for use in harsh and demanding environments. Amphenol Quadrax contacts can handle up to 1.25 GHz of bandwidth and data transfer rates in excess of 2.5 Gbps and provide an excellent alternative for Ethernet 100 Base-T-100 Ohm, Gigabit Ethernet 1000 Base-T-100 Ohm, Fibre Channel-150 Ohm, and IEEE1394B FireWire-110 Ohm.
PEI-Genesis offers these Quadrax contacts manufactured by Amphenol which are available in size 8 crimp termination style or with PC tails.
Features & Benefits
Four strategically spaced inner contacts form two 100 or 150 Ohm matched impedance differential pairs
Outer contact has rugged wall section for durability
Available in size 8 crimp termination style
Also available in size 8 with PC tails
Requires modification of MIL-DTL-38999 connector to accommodate keyed contacts