Amphenol LTW Series Circular Metric Vent Connectors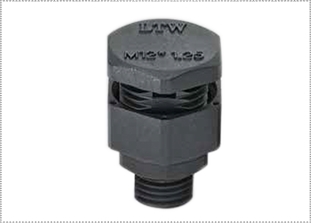 SCREW OR SNAP-IN PROTECTIVE, WATER-RESISTANT VENT CONNECTORS
Amphenol LTW Series Vent Connectors are water-resistant with a rating to IP67, IP68 and IP69K, depending on style - protecting outdoor devices in extreme conditions. These connectors equalize the pressure inside and outside a sealed enclosure. These circular metric connectors are breathable and area available in screw with nut, screw without nut and snap-in mating styles; all three variations offer field installable options.
A hydrophobic/oleophobic membrane keeps liquids, oils, and moisture out and reduces condensation in sealed enclosures. The protective vents can also prevent heat dissipation of electronic components from shortening devices.
These vent connectors are well suited to industrial applications with challenging environments. Applications include industrial and farm automation, outdoor broadband wireless access, LED lighting, IP closed-circuit TV and security, renewable energy, marine electronics, and hybrid electric vehicles.