Anderson SBX 175 Multipole Connector (Up To 175 Amps)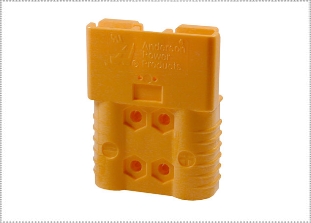 SBX® 175 MULTIPOLE CONNECTOR
(UP TO 175 AMPS)
The innovative Anderson SBX 175 connectors provide cost-effective reliability, design flexibility and safety for your products' manufacture, installation and maintenance.
Anderson Power Product's 2 pole connector is available with a 175 amp rating, 600 Volts continuous AC or DC operation. There are Anderson SBX 175 connectors for many applications and wire sizes, 1/0 or 35 mm.
Mechanical keys ensure that Anderson SBX Multipole connectors will only mate with connectors of the same color. Different color housings are selected to identify voltages, thus preventing mismatching of the power supply system. These connectors are also molded from a rugged PC resin and are rated IP20 per IEC 60529.
Features and Benefits
Touch safe interface minimizes potential contact with live circuits
Up to 8 last mate / first break auxiliary's
Enables intelligent power switching, CAN and interlock loop circuitry, as well as power up to 20 amps per pole
Color-coded mechanical voltage keys
Like all Multipole connectors, the SBX® offers an easy way to identify circuits and protect against cross mating