Anderson Power Products Mid Power SPEC Pak® Connectors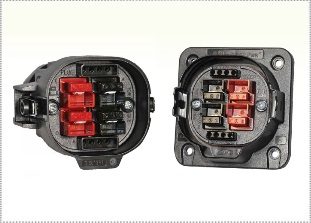 HIGHLY CONFIGURABLE, RUGGED AND ENVIRONMENTALLY SEALED (IP68)
Like the other connectors in the SPEC Pak® family, the Mid Power SPEC Pak is rugged and environmentally sealed (IP68). The Mid Power SPEC Pak leverages APP's core Powerpole® flat wiping contact along with pin and socket technology, and has power handling capabilities up to 80 amps at 600 volts, AC or DC, with signal, making them suitable for 3 phase AC power distribution, motor, controller or Industrial equipment applications.
The environmentally sealed (IP68) shells are made from PC/PBT blended materials and also have a weatherability rating of F1, and flame resistance rating of V-0 allowing for operating temperatures of -40 to 105°C (-40 to 221°F). The wire to wire, and wire to panel configurations feature a metal latch to prevent accidental un-mating. This highly configurable Mid Power SPEC Pak accepts up to 4 Powerpole housings, available in a wide array of colors providing color coding options for ease of assembly.
The Mid Power SPEC Pak is highly configurable providing users with a multitude of flexible design solutions in a single interconnect.