Cinch ModICE® SE & LE Enclosures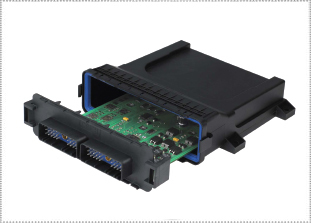 Check out the ModICE® ME for all the protection of the SE & LE enclosures in a more compact board size.
SE/LE CONTROL MODULE PROTECTION
The SE and LE sizes of Cinch Connectivity Solutions' Modular Integrated Connector Enclosures (ModICE®) line offer high quality sealed packaging solutions for electronic control module applications. The Cinch ModICE 1.5mm SHS System is the base interconnect technology for these enclosures. These Cinch ModICE enclosures are RoHS compliant, sealed to IP67 & IP69K and remain sealed even when the harness connectors are not mated. The Cinch ModICE line is operable at temperatures ranging from -40°C to 85°C, and is resistant to most industrial fluids. Both the SE and LE are offered with integrated heat shrink.
Board Size
SE 4.50 x 4.60"
LE 6.00 x 6.10"
Standard Features
Interfaces with Cinch SHS Harness Connector
SE Headers 18, 30 and 48 I/O
LE Headers 30, 48 and 60 I/O
Optional Features
Headers with integrated ferrite filtering
Vented enclosures (Breather vent)
Enclosures with integrated heat sink
Additional custom modifications available from PEI-Genesis
Material Specification Cinch ModICE®
Housing - Glass filled polymer
Pins - Brass - Post tin plated
Seals - Silicone elastomer
RoHS - Compliant