Production Facilities
PEI is defined by our production facilities. It's not just because of the proprietary equipment we've invested in or our dedication to achieving operational excellence, but those combined with our most important asset - our skilled and knowledgeable people - that we are able to consistently deliver with speed, service and quality that is unmatched in the industry.
Headquarted in Philadelphia, PA., PEI-Genesis maintains an AS9100D and ISO 9001:2015 certified quality management system at its corporate headquarters in Philadelphia, PA, and at production facilities in South Bend, IN; Southampton, UK, and Zhuhai, China
We Have 3 Production Facilities:

SOUTH BEND, IN USA
South Bend is our largest assembly facility dedicated to connector modification and custom cable assembly. Located on a 23-acre campus, this facility currently has 150,000 square feet of production and component warehousing. The South Bend facility is the physical realization of our operational excellence – even the floor plan mirrors our automated workflow. We use underground conveyor systems to deliver components as quickly as possible to our work stations, and we have developed state-of-the-art proprietary equipment to help us do what we do better and faster than anyone else. We also have two in-house outgassing ovens that allow us to completely outgas connectors in just 4 hours.
PEI-Genesis
4747 W. Cleveland Rd.
South Bend, IN 46628
Toll-Free: 800-348-2996
Phone: 574-287-2911
FAX: 574-282-3016

PEI-GENESIS UK LTD.
Located in Southampton, UK is our 7,000 square meter (75,000 sq. ft.) production facility serving the European market. It is also our European headquarters. Modeled as with the same automation capabilities and process flow, this facility is also dedicated to fast assembly of connectors and custom cable assemblies.
PEI-Genesis UK Ltd.
George Curl Way
Southampton, SO18 2RZ
Phone: +44 (0) 23 8062 1260
FAX: +44 (0) 23 8062 1270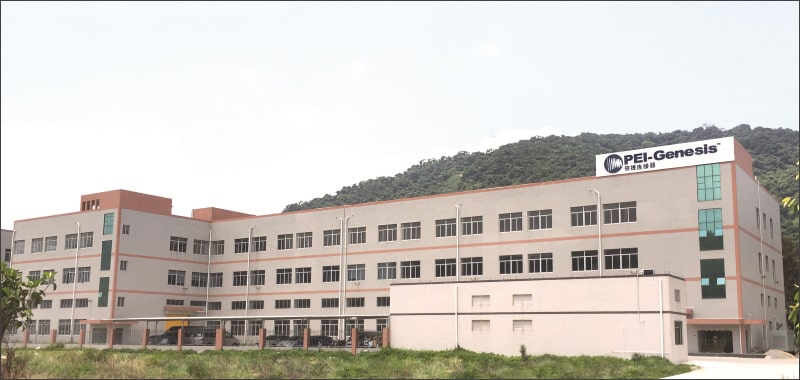 PEI-GENESIS CHINA
In 2015, PEI-Genesis opened a 54,000 sq. ft. facility, in Zhuhai, China. This facility uses the same proprietary automation, the same process flow, and the same software as North America and the UK, filling a critical need in the Chinese market for high-mix, low volume configured connectors.
PEI-Genesis China
524 Anji East Road, Building 3, Sanzao Town,
Jinwan District, Zhuhai, Guangdong,
China
Phone: +86 756 7619 293 or +86 756 7683 088
FAX: +86 756 7683 087