ITT Cannon plastic APD connectors used in Miltary vehicles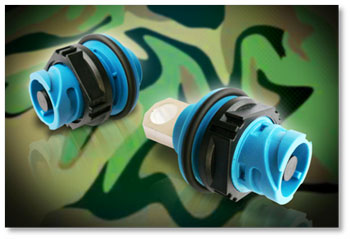 Armored vehicles make use of plastic circular connectors from ITT Cannon
ITTCannon APD Series plastic circular connectors are being specified for use as Military Connectors in military wheeled armored vehicles for on-board applications that do not require mil-spec connectors.PEI-Genesis is the largest stocking distributor in the world of APD products and configures from component stock in 48 hours or less.
ITT's APD Series connectors from PEI-Genesis are designed to the automotive DIN 72585 (now ISO 15170) specification. ITT Cannon offers 1, 7 and 51-way versions. "Military and defense applications have traditionally used rugged, metal connectors fully qualified to military specifications, however the need to reduce government spending has opened the market for non-military-type components, as not all military vehicles required the same level of reliability." says Keith Teichmann, director of marketing for ITT Interconnect Solutions.
"While the inner frame of wheeled armored vehicles incorporates weaponry and radio or drive controls that require military-specific connectors, other applications within the vehicle such as lighting, mirrors, and cooling and heating functions use more cost-effective and lighter plastic connectors," Teichmann says.
ITT APD connectors have a secondary locking system for high-pin-count applications. The connectors can handle as much power as 48 volts, are available in layouts ranging from 1 to 51 contacts, resist the effects of high vibration, and are sealed to IP67/IP69K ratings. PEI-Genesis stocks the full range of APD products and supplies these products to a broad range of transporation, industrial and military customers worldwide. For more information or for design support, contact your local PEI-Genesis office or our Technical Support Group.