PEI-Genesis Offers ITT Veam
VEAM connectors (formerly Litton-Veam) assembled in 48 hours.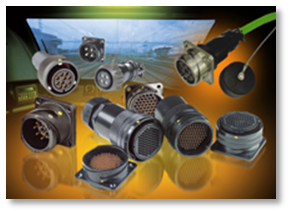 PEI-Genesis is the world largest distributor of ITT's VEAM CIR and VEAM FR CIR (fire retardant) connector series of multipin circular connectors. Now engineers and buyers in the rail sector obtain the exact connector for their requirement in the shortest possible time and without the burden of minimum order quantities; PEI-Genesis will happily build just one connector if that is all you need VEAM CIR Series Connectors.
The basic design parameters of the VEAM CIR series were derived from the MIL-C-5015 military specification and enhanced by the addition of a positive-lock/quick-disconnect bayonet coupling mechanism. High shock and vibration resistance is achieved without the need for lock wires, and the connectors are rated for a minimum of 2000 couplings. VEAM CIR connectors are available in an enormous range of styles, shell sizes and contact arrangements and can be supplied in a wide variety of materials and finishes to suit the demands of each particular application. It's also intermateable with VG95234.
Add-ons for Veam Cir Connectors for railroad industry
ITT Cannon's VEAM CIR connectors can also be specified with various inserts to meet low-smoke/zero-halogen requirements and provide superior resistance to fuel oils, solvents and elevated temperatures. For more details, call PEI-Genesis and talk to one of our applications engineers.