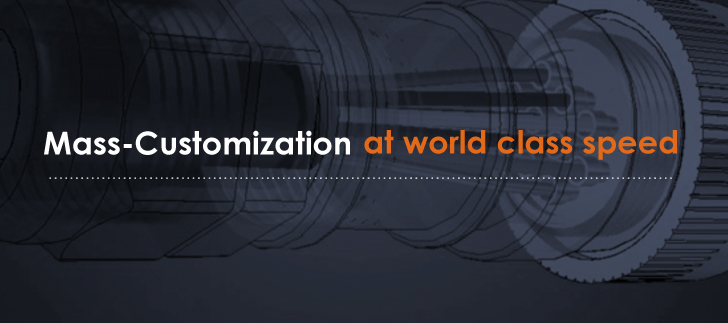 PEI-GENESIS MODEL
We are driven by our Model, which is who we are, what we do and how we do it; and has helped to make us successful. The PEI Model is not a dusty mission statement, but a living guideline that drives our actions and has real value for our customers and our suppliers.
Click here to watch the PEI model video.
PARTNERSHIP
We know that we are not the brand. We don't design new products; we build a bridge between our suppliers and you. We serve as a single point of contact, giving you better access to the parts you need. By focusing on value-added assembly, we offer an extremely broad range of products with almost-instant availability. By stocking large inventories of component parts, we shorten lead times from weeks or months to just hours.
VALUE-ADDED
We value-add 70% of the products we sell. We don't know of any other distributor with a higher percentage of value-added sales. We stock our products in their component parts, not pre-built, which allows us to assemble them to meet your specific order. By building to order, we bring the full range of our suppliers' portfolios within your reach with quick turnaround for connectors.
SPEED (CYCLE TIME)
We are committed to being the fastest in the world at everything we do. We routinely take products that have long lead times and make them instantly available in all of their variations. This is one of our differentiators. Our goal is to deliver products to our customers as fast as possible with low to no minimum order quantities.
HIGH-MIX, LOW-VOLUME
We built our entire company around the concept of high-mix, low-volume mass-customized products. It squarely positions us to support small and medium-size businesses across diverse markets that may be overlooked by other distributors or suppliers because the opportunities are considered too small. No order is ever too small or too difficult for PEI!
PROPRIETARY PRODUCTS
We look for products or capabilities that are unique to PEI, or more commonly, a combination of a product and a capability that is unique. This allows us to offer products ranging from fully-engineered solutions to modified standards to kitting of associated parts to building to a customer part number.
MANY BRANCHES
We believe that business is personal. We put our sales and applications teams close to their customers to create intimacy. While others collapse their organizations into regional call centers, we aggressively open new offices to be closer to our customers. View a full list of our locations.
PRODUCT KNOWLEDGE
Everyone at PEI-Genesis must know our products, and you can benefit from our expertise. Our knowledgeable inside sales team is backed by internal applications engineers. In the field, we have an experienced outside sales force bolstered by field applications engineers. We also have a team of design engineers and product managers focused on providing in-depth product knowledge. We have created design tools such as Solution Guides and a Connector Cookbook to help you design-in our products. Have a technical need? Call us at 1-866-734-9111or +44 (0)2380 621260, email us at [email protected] or submit an online form.
VALUES
As a family-owned company, we take our values seriously. They are: Integrity and Innovation, Continuous Measurable Improvement, Teamwork, Respect, and Excellent service to our customers. Click here to learn more.