Sure-Seal IP67 M8 Circular Sensor Connectors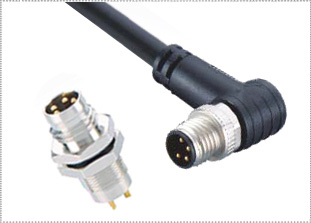 CIRCULAR SENSOR CONNECTORS FOR TIGHT SPACES AND INDUSTRIAL CONTROL NETWORKS
M8 connectors from Sure-Seal are an ideal option for industrial control networks where small sensors are required. M8 connectors are available in 3 to 8 pole configurations with options for shielded cable, snap-in connections and field wirable assemblies. All cable assemblies can be offered in PUR or PVC and cable lengths can be customized. Sure-Seal M8 sensor connectors are designed per IEC 61076-2-104 standard.
Contaminants such as water and dust can destroy connection integrity, resulting in costly repairs and system downtime. Sure-Seal's M8 sensor connectors can prevent such damage from occurring by providing products constructed with robust TPU material, gold plated brass contacts and screw lock coupling.
You can choose Sure-Seal with confidence. We offer a comprehensive range of highly reliable products to address your mission critical applications. For full details, please click shop now to see the product specifications.
Sure-Seal IP67 M8 Circular Sensor Connector Features and Benefits:
IP67 Panel mount receptacles with options: solder cup, PC tail, flying lead types
Molded cable assemblies in PVC or PUR in standard and customized lengths
Available in 3 to 8 pole configurations
Meets IEC-61076-2-104 standards
Operating Temperature Range: -10°C to 80°C (Wire leads),-25°C to 90°C (Connector)
Codings: A, B