LEMO REDEL P Series Connector
Push-pull self-latching connector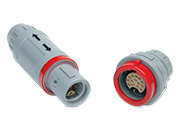 PEI-Genesis offers LEMO's Redel P Series push-pull self-latching connector. LEMO Redel P Series connectors feature a secure mechanical connection with a push-pull self-latching system and an audible click when mated. Standard and reverse gender configurations and multiple mechanical keying options are available to avoid mis-mating. The LEMO Redel P Series uses Polyetherimide (PEI) housing material which can withstand steam sterilization and resists the common sterilization methods required multiple times. The durability and lightweight characteristics make it an ideal choice for the following applications:
Instrumentation
Wearable/movable medical devices
Audio/video
Other applications where a highly reliable connector is required.
Where a quick-mating connector is needed
Insert configurations include a wide range of high-density or hybrid electrical contacts, including solder, crimp, PCB, coaxial, fiber optic, fluidic or high voltage contacts for REDEL 2P High-Power. The LEMO Redel P Series includes 6 color codings, over 12 shell styles and 3 sizes using multipole 2 to 34 contacts.