Making the right connections
Specifying exactly the right connector for a particular application can be a tricky process. Connector assembly specialists PEI-Genesis, offers some guidelines.
Even though the humble connector performs just one function - joining together signal and/or power lines - the task of selecting exactly the right product for a particular application can be surprisingly complicated. While there are some simple connectors that could be considered 'standard' products, very often today's electronic systems require a complex multi-pin connector whose configuration is specific to the application in hand.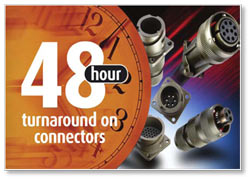 As well as ensuring that the connector delivers the necessary electrical performance, the designer needs to consider a number of mechanical variables, including shell style and size, coupling mechanism, contact style and size, and number and arrangement of contacts.
If the connectors are destined for an application in say the industrial, rail, petrochemical, aerospace or defense sectors, they have to be able to withstand quite extreme environmental conditions and may require specific industry approvals. To ensure that the connectors provide reliable performance and a long service life, they must be of a rugged construction and capable of resisting high levels of vibration and shock. Often they will need RFI shielding or sealing against the ingress of dust and moisture. They may have to cope with frequent coupling and uncoupling without loss of performance. Operation over an extended temperature range may also be required, and for most non-military applications the connectors have to be RoHs compliant.
Clearly it can be seen that a huge number of variables are involved, each of which needs to be considered very carefully. Take mating cycles, for example. While in some applications the connectors will never come apart once they have been connected, in many cases they will be mated and unmated repeatedly. Where this is a requirement, the designer would probably be looking at some sort of military connector, as these generally offer a minimum performance of 500 mating cycles. With enhancements such as specially plated contacts, this can even be increased to 2000 mating cycles.
A requirement for high contact density would also steer the designer towards a military circular connector, probably a MIL-DTL-38999 product, as these are able to accommodate up to 128 contacts in a size 24 or 25 shell.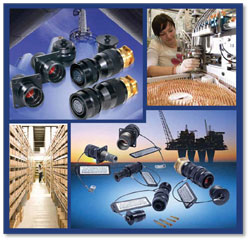 If the connector is going to be subjected to a harsh environment, special coatings can be specified for the connector shells. Whereas a nickel-plated shell can withstand 50 hours of salt spray, this would increase to 200 hours with a cadmium olive drab shell and 3000 hours with a black hard anodized shell.
With so many variables, even popular product lines such as D-subminiatures connector and multi-pin circular connectors can be configured in hundreds of different ways, which makes the task of selecting the right product far from easy. Very often the best approach is therefore to establish the basic parameters – voltage, current, number of circuits and sealing requirements – and to enlist the help of a specialist connector supplier, who will then ask all the questions necessary to narrow down the choices and complete the selection process.
While such support may be available direct from connector manufacturers, customers are likely to find that orders are subject to lead times running into several weeks, as well as sometimes unwelcome minimum order quantities (MOQs).
An alternative is the connector assembly specialist.
Connector manufacturers design and produce the connector shells, inserts, contacts and ancillary components, connector assembly specialists such as PEI-Genesis stock large quantities of those piece-parts and assemble products in response to individual customer orders. This approach offers significant benefits to customers: not only can they source the exact connector they need, but they can have it straight away – and with no MOQs.
In the case of PEI-Genesis, the company works in close partnership with leading manufacturers such as Amphenol connectors, ITT Interconnect Solutions (ITT Cannon and VEAM), CINCH and LEMO connectors , so customers can be assured of receiving products of the highest quality.
PEI-Genesis carries a $60 million inventory of connector piece-parts between its USA facility in South Bend, Indiana and its European facility in Southampton, UK.
This massive investment, coupled with in-house developed automated assembly machines, means that the company is able to offer a 48-hour assembly service across an extremely wide range of interconnection products.
The most recent addition to the company's product portfolio is Amphenol's Amphe-EX range of ATEX-approved multi-pin hazardous-area connectors, which are specifically designed for use in harsh environments such as those associated with oil and gas exploration, petrochemical plants and fuel storage sites. They are ATEX, AEX and IEC certified for Zone 1 rated applications and flameproof compliant to EN60079-0 and EN60079-1.
For defense and aerospace applications, PEI-Genesis builds a wide range of Amphenol and ITT Interconnect Solutions military circular connectors, including MIL-DTL-38999, MIL-DTL-26482 and MIL-DTL-5015 connector types.
Rail and transportation applications are served by ITT's VEAM CIR series of multi-pin circular connectors, which can withstand high levels of shock and vibration, as well as providing excellent resistance to fuel oils, solvents and elevated temperatures. The ITT Interconnect Solutions product line-up also includes a comprehensive range of D-subminiature connectors, all of which are RoHS compliant and can be specified in standard configurations ranging from nine to 104 contacts.
Advice on product selection is available from PEI's specialist engineering team,, and this technical expertise is complemented by a website that provides a wealth of useful resources for engineers, including connector comparison charts and comprehensive technical data in the form of a library of PDF datasheets. For anyone requiring printed catalogs, the company also produces its own Connector Solutions Guides, which are available in two volumes covering key product ranges from Amphenol connectors and ITT Cannon.