Custom Electrical Connector Solutions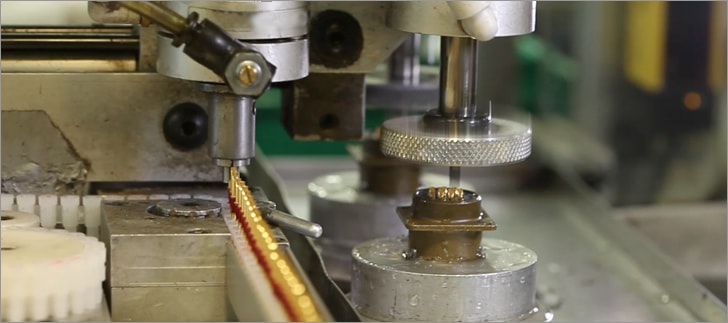 PEI-Genesis is more than a distributor. We have a unique value-added approach. As a matter of fact, 86% of our products are value-added. In our ISO 9001:2008-certified production facilities, we stock a large inventory of electronic component and parts, allowing us to assemble custom electrical connectors to order in just 48 hours with no MOQs. This lets you choose from a wide range of connectors with the shortest lead times in the industry. With our quick turnaround, you can use just-in-time (JIT) delivery to manage your inventory levels.
We have built partnerships with the top brands in the connector industry, who have franchised us to value-add their products: Amphenol, ITT Cannon, TE Connectivity DEUTSCH, CINCH, and LEMO. These relationships allow us to offer a large selection of custom connectors in a variety of platings, layouts and contact types, including high-speed and fiber optic.
We assemble a range of circular and rectangular connectors, micro-miniauture circular connectors, push-pull and medical connectors, mil-spec and industrial connectors, hermetic connectors, d-subs and micro-d's, and explosion-proof custom connectors. Our interconnect solutions support the military, aviation & aerospace, oil & gas, industrial, rail & mass transit, automotive, medical and telecommunications markets.
Additional Custom Connector Services:
In addition to custom connector configuration, we also offer:
Full in-house connector outgassing in just 4 hours
Custom connector marking
Custom kits
Custom bar coding & packaging
Custom cable assembly & testing
Wide range of accessories, such as backshells, dust covers, boots, wire handling and more
Have a technical question? Contact our engineering team at the phone numbers below, email us at [email protected] or submit an online request.
Americas:
Weekdays 8:30am – 5:00pm EST
+1 215-673-0400
Europe:
Weekdays 8:30am – 5:00pm GMT
+44 (0) 23 8062 1260
Asia
+86 756 7683 088 or +86 756 7619 288