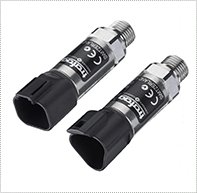 Trafag Pressure Sensors
Trafag produces a complete line of pressure monitoring products including transmitters, switches and gauges. From high accuracy lab grade measurement to OEM volume requirements, all the bases are covered.
Trafag pressure transmitters are used for electronically measuring and evaluating pressure. Over the decades, they have proven themselves in a multitude of demanding applications in harsh environments. They are available in many different designs to suit pressure and electrical connections, measuring procedures, electrical output signals and certifications (CE, EX, rail and ship). Superior technology and precise manufacturing ensure that the transmitters work perfectly, especially in areas where high requirements are placed on long-term stability, vibration resistance, electromagnetic compatibility, shock resistance or temperature insensitivity.
Featured Products
8252

Industrial 0.5%
OEM / budget friendly
Deutsch DT04-3 pole
Deutsch DT04-4 pole

8254

Warm calibrated 0.3%
Hydraulics and more
Deutsch DT04-3 pole
Deutsch DT04-4 pole

8253

Test & Measurement
Accuracy options 0.1%, 0.15%

8270

CANopen
0.1%, 0.15%, 0.3%

8472

Vacuum…5,000 psi ranges
OEM / budget friendly

8287

5X over pressure rating
0.5%, 0.3%

8381

Pressure transmitter & pressure switch combo
Data logger, visual display

8439

Liquid level transmitter
Water, petro, chemicals, etc..
Technical Submission